InterCLASS® Cloud
InterCLASS® Cloud
InterCLASS® Cloud
InterCLASS® Cloud
InterCLASS® Cloud
InterCLASS® Cloud supports both Chromebook™ and Windows!
It facilitates collaborative learning using Google Workspace for Education.
We help maximize the Chromebook's capabilities so as to promote active classroom activities by making it easy for the teacher to monitor learners' screens, distribute learning materials and let learners share their thoughts.
Let the teacher run his/her classroom teaching smoothly using Chromebook.
Top 3 features of InterCLASS®︎Cloud
Synchronization with Google Classroom with 1 click

The teacher can synchronize his/her Google Classroom and members with one click without complicated primer settings.
Direct access to classroom folders in Google Drive is also available.

Easy operation via a web browser alone

A web-based, full cloud environment requires no dedicated software. Users can log in from any computer and start using the service immediately.

A simple, easy-to-use classroom tool

This is a simple tool, yet it is a very useful one providing a full suite of functions necessary for classroom management, such as distributing the teacher's screen, monitoring and locking learners' screens, etc.
The only thing the teacher needs is an up-to-date Chrome browser.
The simple layout is teacher-friendly, easy installation, and requires no effort on the part of the administrator.InterCLASS Cloud is completely cloud-based, so all the teacher needs to access the teacher control screen is a Chrome Web browser that is installed on his or her PC.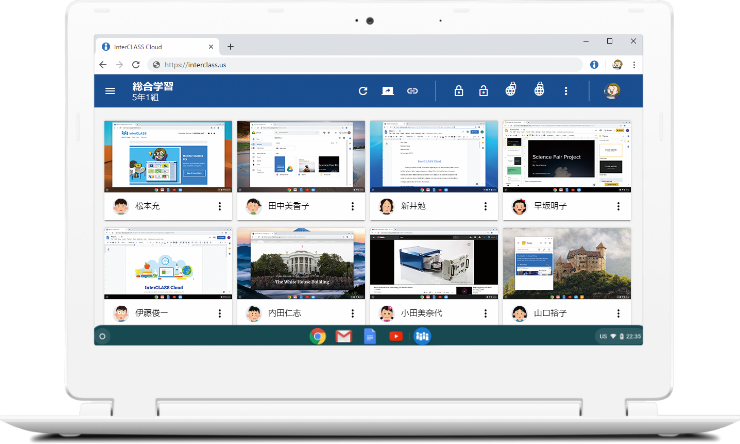 ©2023 Google LLC All rights reserved. Google, Chromebook, Google for Education, Gmail, Google Calendar, Google Document, Google Sheets and Google Slides are trademarks of Google LLC.